The Nova Chiu brand, based in London, is made up of the creative duo, Jeff Archer and Nova Chiu who work together on every detail of the collections. Winners of the Ones to Watch award and Merit Award at Vauxhall Fashion Scout, their SS13 collection is their first collection of theirs to be shown in it's own private show.
Inspired by a series of travels, adventures and crazy road trips that the couple have been on, the collection is a visual feast of prints and bright fresh colours. Looking at the garments closely, it is clear to see that the pattern has been made up of these road trip images, which have all been scaled down and mixed together to produce a larger image. This brilliant idea was the creative genius of Jeff Archer who also produced a hauntingly poetic video of various roadtrips he had been on which he used to introduce the show. The darkness of the video contrasted amazingly well with the brightness of the show and the light, carefree feel of the collection. Elegantly draped silks dappled with mottled paint stroke style markings were sewn into floaty dresses and body hugging tunics which looked dreamlike and ethereal on the waif like figures of the models.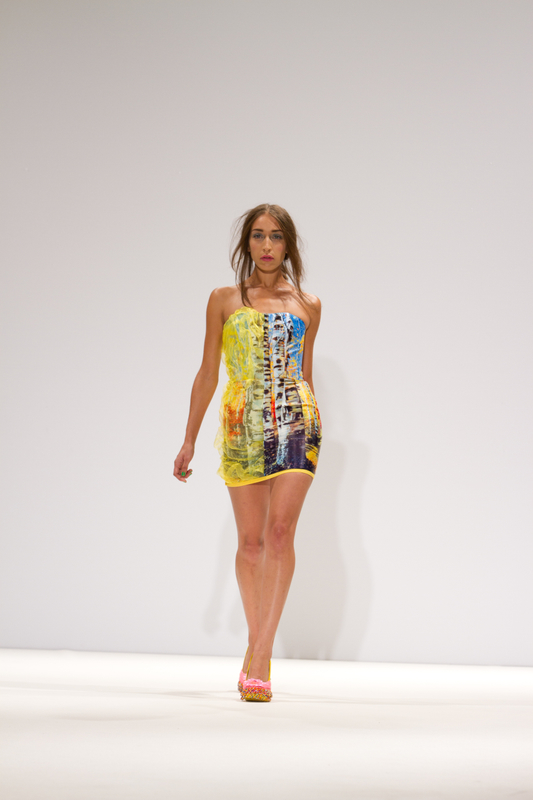 The SS13 couldn't have been more different from their previous collections but one thing is for certain, Nova Chiu do not shy away from statement silhouettes and bold, electric colours. This collection has been designed to boost even the blackest of moods.