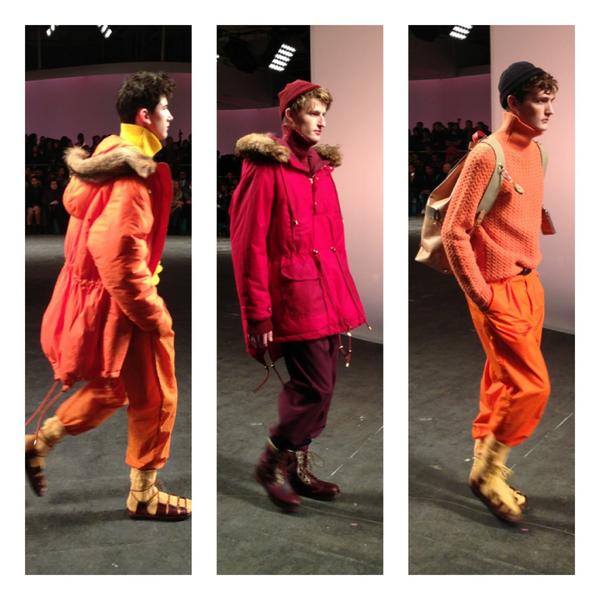 Topman was the first show of the day for the Moda de la Mode team and it definitely started the day off with a bang.
As soon as the lights dimmed and the last person was seated, models started to parade along the catwalk wearing the most luxurious Parker coats imaginable. First of all, we were treated to an array of coffee cream coloured parkers lined with a thick trim of fur around the hood. As the show progressed, the colours got more adventurous and the creams bled into deep hues of sun kissed fuchsia and blood orange. The brighter the colours got, the shorter the jackets were cut leaving some models wearing 60's style cropped jackets paired with what can only be described as pleated culottes for men.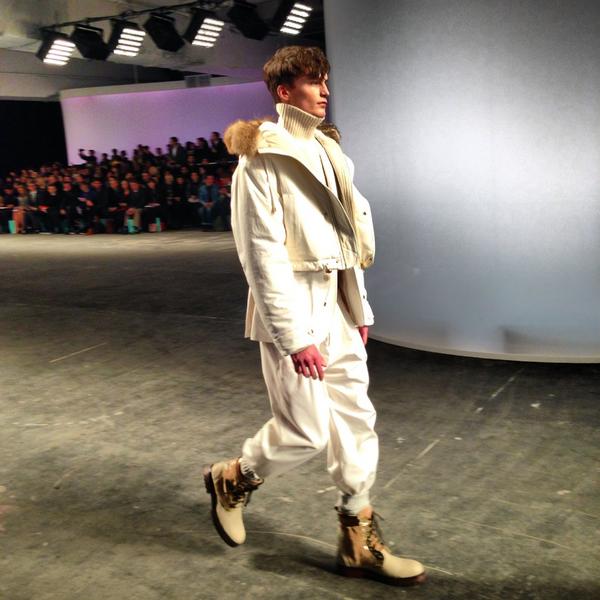 The mood for the show was definitely 'Urban Explorer' with heavy parker jackets, hiking boots and big backpacks being showcased in a whole range of colours and textures. Backpacks made from heavy cream canvas featured metallic leather pockets and straps whilst hiking boots were given a patchwork makeover so as to contrast with the rest of the outfit.
Just like the hashtag used at the show, Topman provided a 360 degree overview of fashion leaving everyone eagerly scribbling their most loved ensembles on their wishlists. I cannot wait for this collection to land in stores so that I can see lots of men snuggling up inside the big fluffy parker jackets. They are amazing.